Add Your Heading Text Here
Generally, at early morning, I used to start my bike with medical kit items, shaving, hair cut kit items, food, clothes. Whenever, wherever I find any abandoned aged people in bad condition, leprosy people, or any other people who need help to survive, I did it.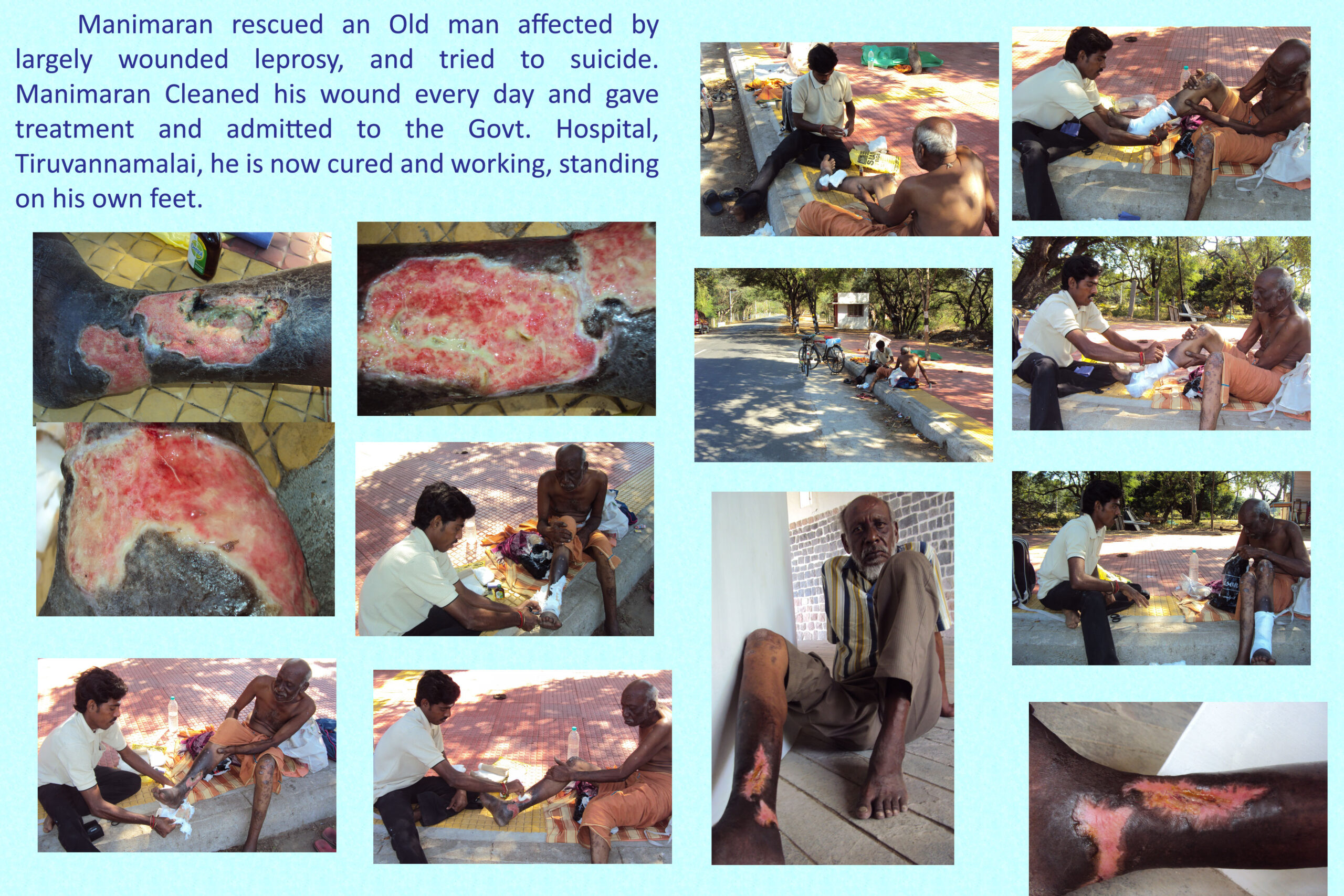 first aid service to leprosy affected peoples
For to provide first aid to people affected with leprosy, I did nursing training and act as observer at Schiffelin Institute of Health-Research and Leprosy Centre, Karigiri, Vellore, Tamil Nadu.
Usually, I carry a big bag with all medical kit items along with me to clean the leprosy affected part in the patient body, whenever wherever I find when I wander by my own vehicle across the country, nearly 18 states. Till date, I have cleaned the wounds of leprosy patients nearly 1500 in counting and then served for basic needs approximately 50,000 in counting. Ultimately, I have adopted 338 leprosy patients.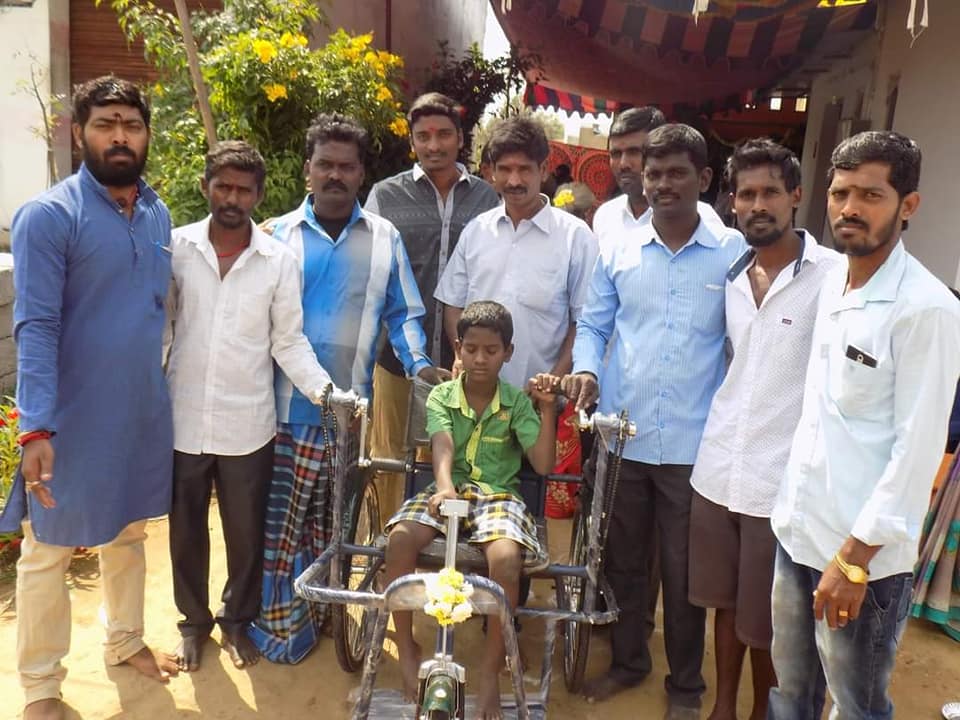 EYE, BLOOD AND BODY DONATION
EYE DONATION : For the past 14 years, I have been creating many awareness programmes in various Educational institutions in Tamil Nadu & Puducherry State and have covered nearly 2,68,000 students. In that, nearly 2,200 students took Eye donation pledge and till date, through my guidance 11 people donation their pair of eyes in Lotus Eye Hospital, Coimbatore, The Eye Foundation, Thirupur, Aravind Eye Hospital, Coimbatore.
BLOOD DONATION : I have started to create blood donation awareness programmes for the past recent years. I have donated blood 11 times and conducted camp. With my motivation 3328 students & public has been donated blood.
BODY DONATION : I have created Body Donation awareness programme between College Students and Public. With my awareness and motivation, till date four (4) people were donated.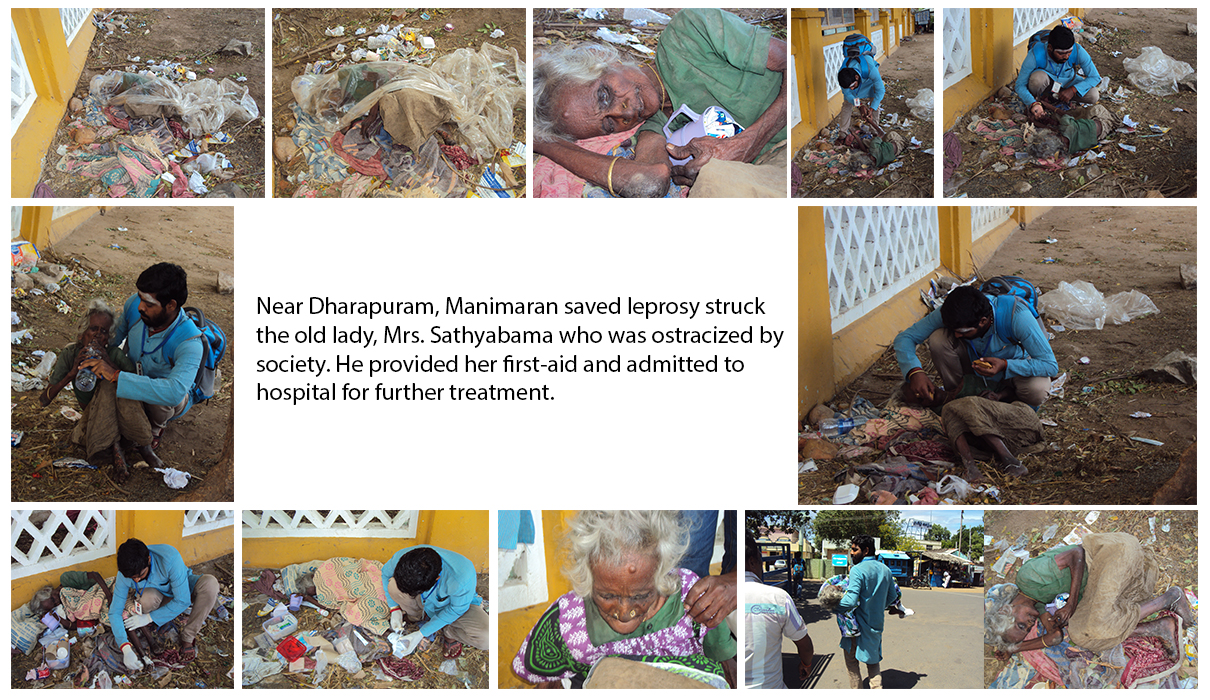 AID SERVICE TO MENTALLY CHALLENGED & AGED PEOPLE
I have been rendering counseling and aiding with basic needs to Mentally Challenged and aged peoples found at the road side, nationally. Till date, I have met and resurrect nearly 28,000 in counting and served nearly 1800 in counting. More than 100 people I found and re custody to their relatives. Ultimately, I did shaving, haircut, dressing with new cloths to the people and admitted nearly 170 people to their respective rehabilitation homes.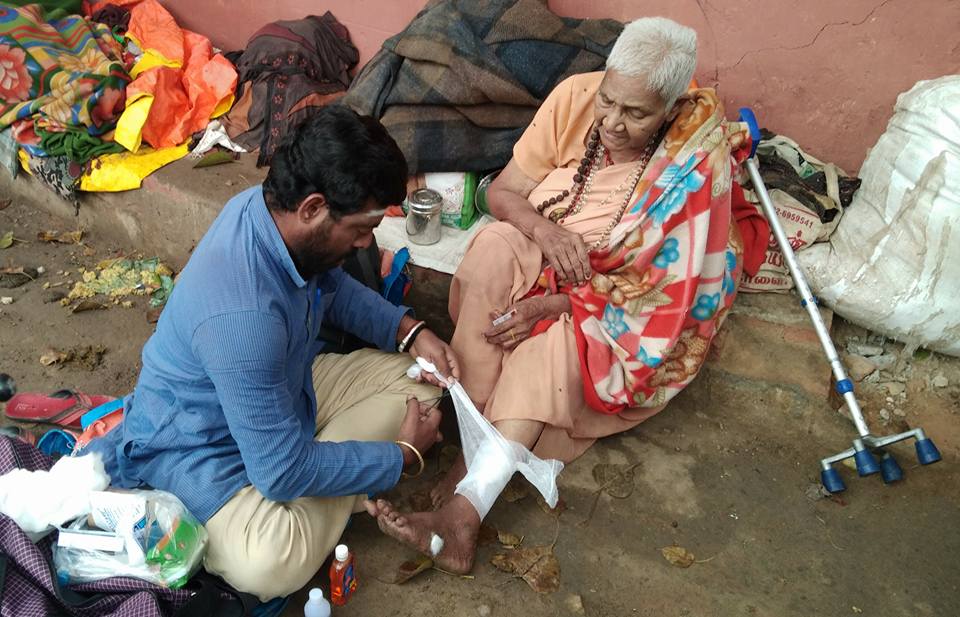 FIRST AID SERVICE AT THE ACCIDENT ZONE
I have been creating awareness on accident among public, for the past years. I am well known to public about my social service activities. Whenever wherever anyone met accident, I will receive call to serve them. Immediately, I give my presence at the accident spot with first aid medical kit and did first aid to the patients, finally I admit them to hospital. Till date, I have attended 1000 accident spot, in that more than rescued 778 patients.
BURIAL AND FINAL CREMATION OF UNIDENTIFIED PEOPLE
I am well known to public about my social service activities. Whenever wherever any unidentified person dead body found, I will receive mobile call to come and aid to do final cremation or burial. Immediately, I give my presence at the spot and took them to the burial center and do the final ceremony with respective manner. Till date, I have made final ceremony and buried above 180 unidentified dead bodies of Tamil Nadu State.
HELPING TO PH AND ABANDON CHILDREN
I have been creating awareness to up lift the life of Physically Challenged people, among the society. I have been giving aid to education Physically Challenged and abandoned children are 500 and more than 800, respectively.
CLEAN INDIA CAMPAIGN
Under the auspicious of the Prime Minister's Clean India Campaign, I have conducted many seminars on the topic in schools, colleges and Universities in Tamil Nadu State. In connection to this, I am doing cleaning programming across the Country.
OTHERS
I have been creating many awareness programme among public on various important social cause other than as stated above, like Tree sapling donation, tree plantation, protection of domestic animals, employment and other category of social service activities which is favorable and suitable at the right time and to the right person.